CMS Service Territory and Locations
CMS Electric Cooperative, Inc., was founded in April 1945 and energized its first lines in June 1948. Originally, CMS took its name from the three countines it was chartered to serve: Clark, Meade and Seward. However, soon Comanche County was added to the service area. The service area covers approximately 4800 square miles with approximately 2500 miles of line. We currently service Clark, Comanche, Meade, Seward with portions of Barber, Gray, Stevens, Kiowa, Ford and Haskell counties.
Today, the cooperative serves approximately 5800 meters, consisting of residential, small commercial, large power and industrial loads. As with any cooperative, we are member owned, which makes us continually working ot keep our rates competitive while still maintaining excellent service.
Our main office is located in Meade at 509 E. Carthage Street which is across the street from the Meade District Hospital on Highway 54. 620-873-2184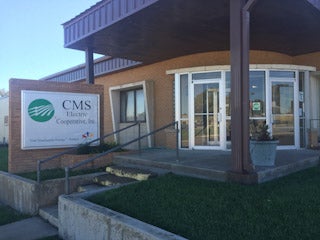 Our Coldwater District office is located at 603 N. Central. 620-582-2534 A professional staff is available to assist you with your service needs.